Leadership Team
Trusted Automotive Experience Powers Effective Solutions
Our founding members and leadership team came from the wholesale and retail automotive world, and are among the most forward-thinking individuals in the industry. Our goal is to build solutions that empower dealers to become more efficient and competitive in an ever-changing marketplace.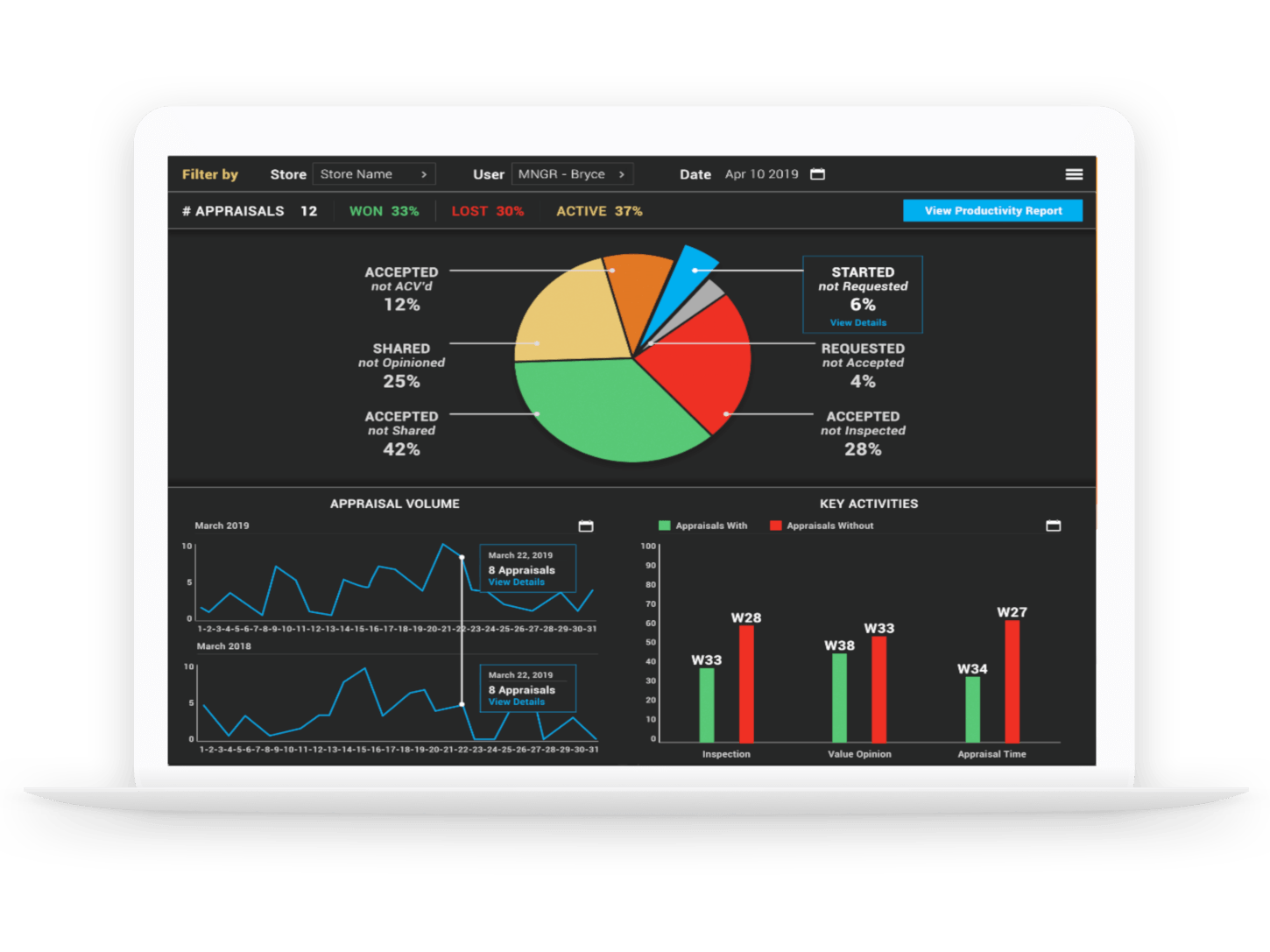 Our approach to the Automotive industry is centered around empowering Dealers with data-driven actionable information.
We actively involved a long-standing dealer group in the build-out of this product and gained many valuable insights from their expertise. Most notably, we continue to be surprised at how many tech companies are trying to solve problems that don't actually exist in the industry. Everyone is trying to "disrupt" because they "feel" the dealer model is broken. Our data tells us otherwise.
Dealers don't need disruption, they need solutions.
This product doesn't disrupt a dealership's operations but rather creates efficiency and profitability. With margin compression, the rising costs of doing business and the lack of qualified workers in today's market, today's dealers need this tool if they want to be competitive in tomorrow's marketplace.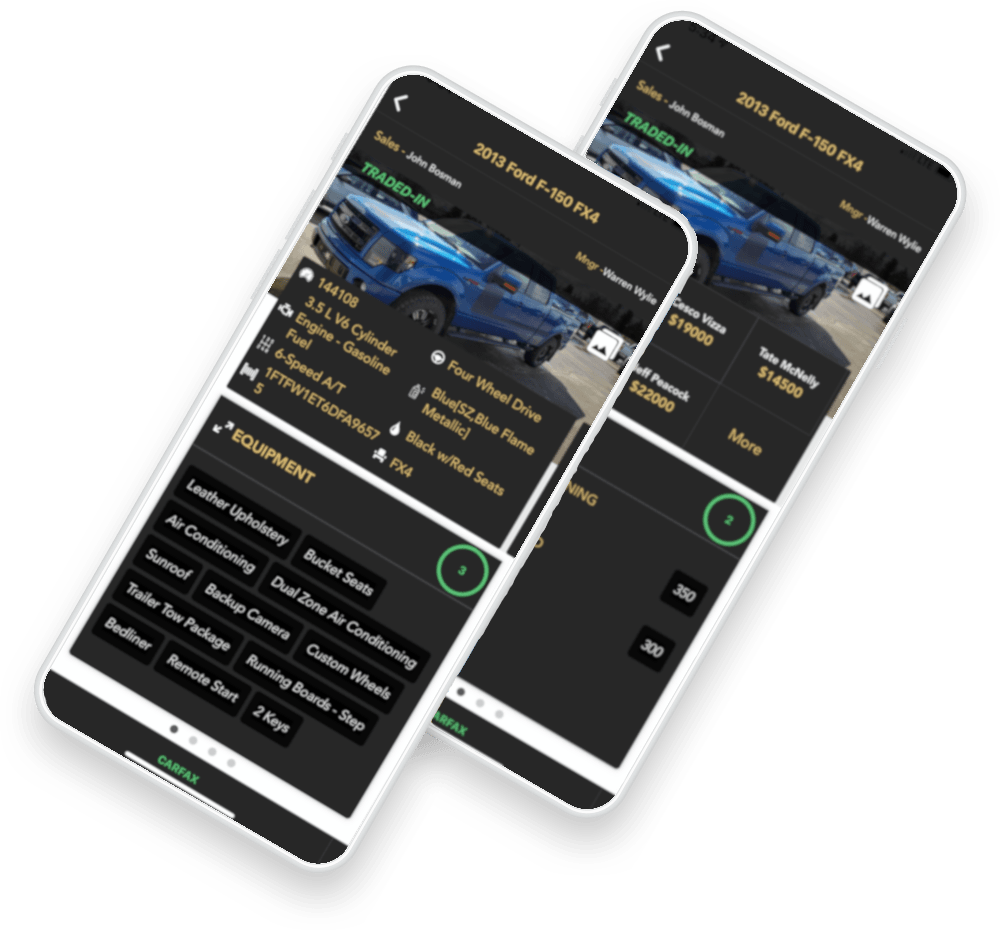 Our Values
We Empower Dealers. Period.
Innovation
Is about creating efficiencies and competitive advantages.
Transparency
Is about building trust and confidence.
Perseverance
Is about having the patience to get the job done right.
Mobile Application Development
Making sense of Your Data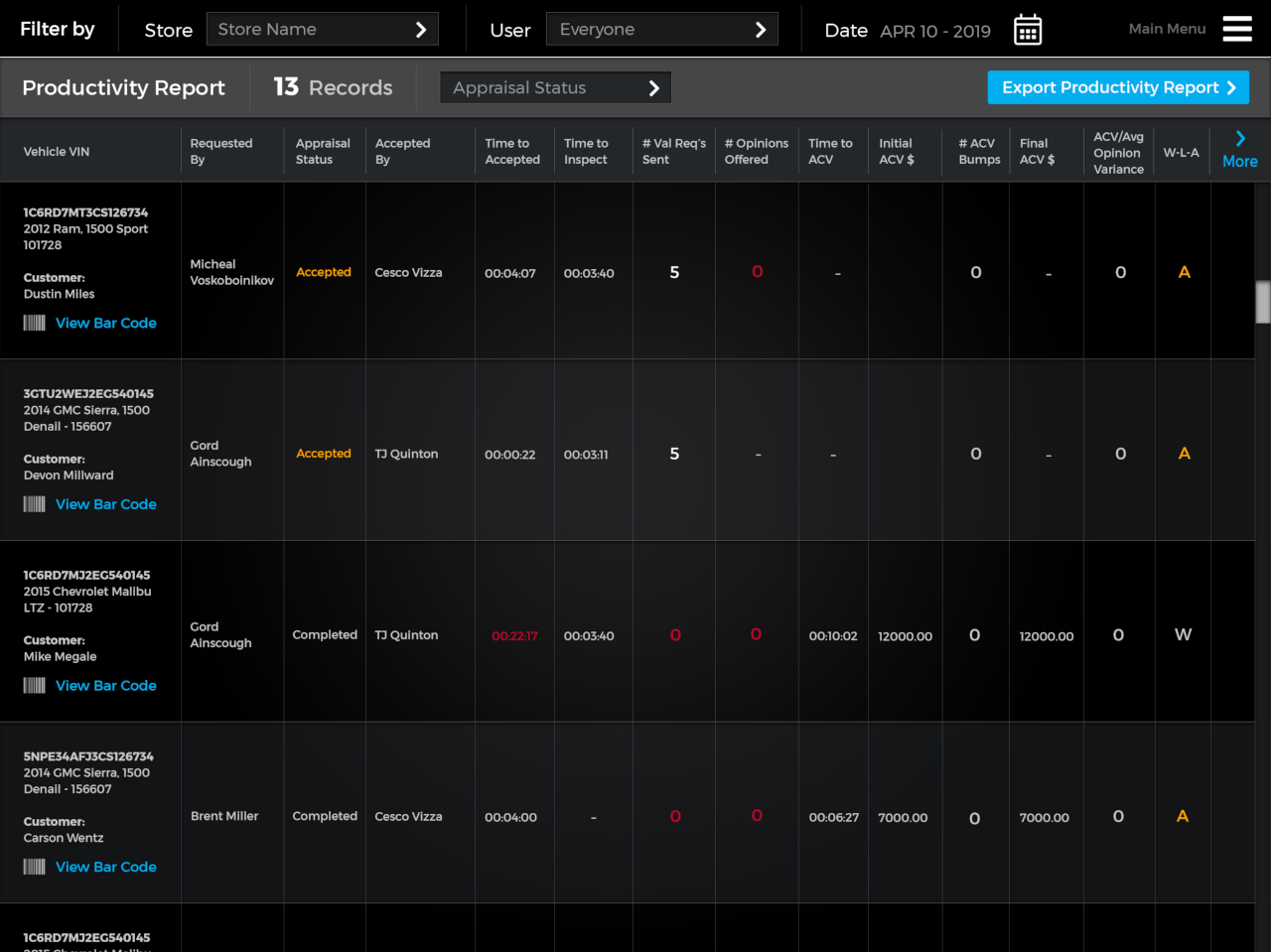 Frequently Asked Questions
We are always listening to your concerns and questions. Here are a few of our favourites.
Q: How do I know if my dealership has an effective appraisal process?
A: You will be able to tell how strong or weak your appraisal process is based on whether you can answer the following 6 questions:
1) How many appraisals are started by sales staff but never submitted to a manager?
2) How many appraisals are submitted to a manager with inadequate vehicle details?
3) How many appraisals don't get test driven & inspected by a manager?
4) How many appraisals are valued base on a single managers opinion?
5) How many appraisals take longer than 20 minutes to complete?
6) How many appraisals never get completed?
Q: What impact does Appraisal Grid have on the retail customer?
A: Sales staff can now stay with and include the customer throughout the entire appraisal process. This level of transparency builds trust and credibility while minimizing stress and anxiety.
Q: How do you ensure adoption by sales staff and managers?
A: General managers have real-time insight into every touch-point throughout the appraisal process enabling action to be taken when required. This level of transparency drives accountability by  both sales managers and staff.
Q: How do I know if my appraisal win/loss ratio is accurate?
A: Check to see if all of the appraisals that come into your dealership are being included in your win/loss ratio calculation. You will most likely find that managers are receiving appraisals via paper, text, email, Whatsapp and rarely count all of the appraisals in their win/loss ratio. Appraisal Grid aggregates all of your appraisals into one location.
Q: Who can I invite to participate in my Channels?
A: You can invite any of your dealer group store members as well as guest participants to your Channels. Store members generally have full permissions whereas guests are setup with just a valuer/buyer permission. This means guests can offer valuation opinions for appraisals and make offers on aged inventory.
Q: What type of impact should this solution have on my appraisal win/loss ratio?
A: If you acquire 100% adoption by general managers, sales managers and sales staff then you should experience a 5 – 7% increase in your appraisal win ratio.
Q: What is the optimal amount of time to complete an appraisal?
A: Appraisals should take between 15 and 30 minutes to complete. Less than 15 minutes usually means the vehicle has not been looked at closely enough, and longer than 30 minutes starts to test the customer's patience. With the transparency that Appraisal Grid delivers, managers are held accountable to ensure that the right information is captured in an acceptable time-frame.
Q: How do we ensure sales staff and managers are capturing accurate detailed vehicle appraisal information?
A: Appraisal Grid uses a workflow -riven application to guide sales staff and managers through the appraisal data collection process. This process provides your team with an efficient way to ensure they capture unique vehicle information so they know how to differentiate each potential trade from similar vehicles that are in the marketplace